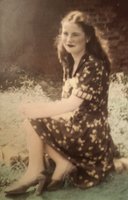 Jeanne Marie Bain
Following a lifetime of integrity and kindness, Jeanne Marie Bain (née Martini) of Rodney and Fenelon Falls, finished her earthly journey on Sunday, August 6, 2017. Jeanne was born in Windsor, Ontario to the late Charles and Margaret Martini. She was predeceased by her beloved husband William Bain (1999).
Jeanne was a loving, proud and supportive mother of Bill (Cynthia) Bain, St. Thomas; Mary (Ted) Soucie, Coldwater; Anne (Ross) Tucker, St. Catharines; and Kathleen Bain (John Henry), North Bay. Jeanne will be warmly remembered forever by her grandchildren: Rebecca (Jay) Rabjohn, Rachel (Stefan) Loesch, Stephen (Shannon) Soucie, Bill Bain, Emily (Josh) Herzog, and great grandson, Tanner Rabjohn.
She leaves her sister, Lenore Enright, of Cambridge. Predeceased by infant brother Charles and brothers-in-law Frank Enright and Harold Bain.
Jeanne adored family and friends. Her good humour and wit will be happily remembered by six nieces, nephews and their families, by good friends Roxann and Bill Nethercott, and her best friend since the age of four, Mary Taylor.
While raising her four children, Jeanne graduated with a BA from the University of Western Ontario in 1967.
As a child, she was an accomplished tap dancer and we loved her telling of those adventures and other fun olden days' stories. As an adult, Jeanne appreciated beauty in nature and was an avid gardener. She loved travelling, sharing hospitality at garden and dinner parties, and she was a wonderful conversationalist.
It was a privilege to have Jeanne as our mother, relative and friend.
Relatives and friends will be received at DENNING'S OF RODNEY, 212 Furnival Road, Rodney (519-785-0810) on Thursday, August 10, 2017 from 10 to 11 a.m. Funeral procession will follow to St. Mary's Catholic Parish, 128 Main Street, West Lorne. A Funeral Mass will be held at 11:30 a.m. Interment with family present at Staffa Cemetery, Staffa, Ontario. Condolences online at www.denning.ca.